Adelaide Knight
Case study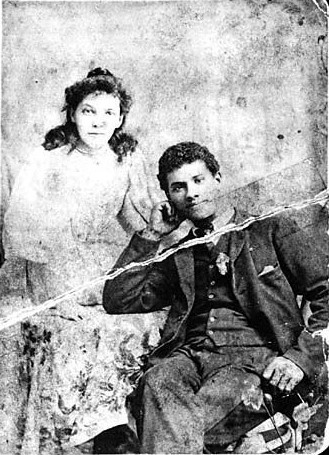 Adelaide Knight and husband Donald - Courtesy of The Royal Greenwich Heritage Trust
Born: 1871
Died: 1950?
Occupation: Working woman
Claim to fame: She was a working-class campaigner with a physical disability
Adelaide Knight came from a tough working-class background in Bethnal Green, London. Her father, a hairdresser and alcoholic, committed suicide when she was young and she suffered from an injury as a child that left her using walking sticks for the rest of her life.
She married sailor Donald Adolphus Brown, the son of a naval officer from the Caribbean, in 1894. He was black and their mixed-race marriage was unusual for that time. They surprised many people by sharing domestic chores, including the weekly laundry, and Donald took Adelaide's name, becoming Donald 'Knight'.
Adelaide was a keen campaigner for social justice and joined the Women's Social and Political Union (WSPU) in 1906, becoming secretary of the Canning Town branch in London. As part of a deputation to PM Herbert Asquith's house in Cavendish Square, she was arrested and was charged with disturbing the peace. Along with others, she was sent to Holloway Prison for six weeks, writing to her husband that 'equal taxation demands equal representation, and I am determined to continue the fight for progress'. Donald fully supported Adelaide, looking after their seven children – the youngest just 18 months old – while she was in prison, and saying, 'we have supported each other for many years, we must not fail now that we are to be put to the test'. Adelaide's health suffered in prison but she remained defiant, singing the socialist anthem 'The Red Flag' every morning and scratching its lyrics into the windowsill of her cell with a hair pin.
Adelaide grew unhappy with the lack of democracy within the WSPU and she resigned her position in 1907 to focus on campaigning for working-class women's issues. Adelaide went on to be secretary of the Canning Town branch of the Adult Suffrage Society, which worked for votes for women and for working men. With Donald, she joined the Social Democratic Federation (a socialist group) and the Labour Party.
Adelaide also served on the West Ham (London) Board of Guardians, and in 1920 became a founding member of the Communist Party of Great Britain. She remained an outspoken campaigner, fighting for the rights of all, regardless of gender, physical health and race, throughout her life.
Glossary
Socialist – a person who believes in the principles of socialism. Socialism is a political belief in ownership by the people (rather than private ownership) of production and services.
Board of Guardians – After the 1834 Poor Law, small parishes were grouped into larger unions. These unions were responsible for delivering relief to the poor. These unions were governed by a Board of Guardians who oversaw and made decisions about relief for the poor.
Communist – A person who believes in communism. Communism is a theory or system of social organisation in which all property is owned by the community and each person contributes and receives according to their ability and needs.
Questions
What made Adelaide unusual for her time?
Why were working- class women unusual as campaigners at the time?
Why might Adelaide's story be important for young people to know about today?
Useful links/resources:
Newspaper report, London Daily News, 18 September 1907