Interview with Baroness Garden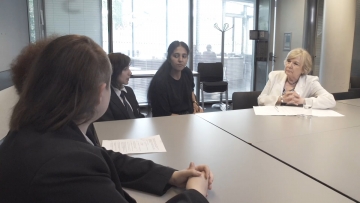 An Interview with Baroness Garden.
In July 2018, students at Hamilton Academy in Leicestershire interviewed Baroness Garden of Frognal, Deputy Speaker of the House of Lords, on the issue of progress towards equality for women and women in politics.
The whole interview is shown below, as well as each individual question. The interview is used as a resource in the Citizenship lessons, which also provide guidance for teachers and students on interviewing local change-makers.
Full interview between students at Hamilton Academy in Leicestershire and Baroness Garden of Frognal (14 minutes)
Question 1: Could you please tell us a little bit about your background - how you got involved in politics, who or what inspired you, and where did you start?
Question 2: When and how did you first become aware of equality for women as an issue?
Question 3: Would you describe yourself as a feminist?
Question 4: As a former teacher, what is your view on schools and what do you think they can do to ensure that young girls and young women become confident and successful?
Question 5: What part do you think citizenship education has to play in achieving gender equality?
Question 6: What advances in gender equality were made during your time (as Minister for Women and Equalities in the Lords)?
Question 7: What are the most pressing challenges facing women now in terms of achieving equality?
Question 8: Thinking forward, in about 100 years time, what advances do you see for women, and where do you see women's position, in the House of Lords and in politics in general?