Minnie Baldock
Case study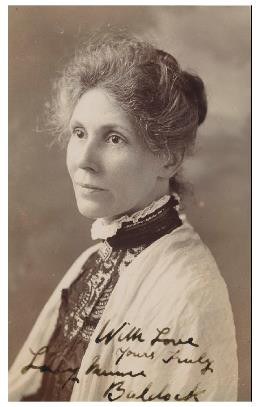 Minnie Baldock © Museum of London
Born: 1864
Died: 1954
Occupation: factory worker, mother, campaigner
Claims to fame: founded the first London Branch of the WSPU
Her background
Minnie Rogers was born into a poor family in Bow, East London. She worked in the hard conditions of a factory from a young age to support herself. In the 1880s, Minnie met and married Harry Baldock and they had two sons. They joined the Independent Labour Party (ILP) and supported the struggle for women's suffrage. She became an activist for working-class causes and organised working women like herself to campaign. In 1905, she stood as a candidate for election to the West Ham Board of Guardians. In 1906, Minnie was chairwoman of the Unemployed Women of South West Ham (UWSWH) group and organised for WSPU member Annie Kenney to speak to them. As a result, the UWSWH voted to become the Canning Town branch of the WSPU – the very first branch in London.
As a suffragette
Minnie was arrested and imprisoned numerous times due to her suffrage campaigning. She once used a megaphone to repeatedly shout out about votes for women in Parliament Square. Minnie's imprisonments put a financial strain on her family, and wealthier women sent money to her husband to help. Harry was very supportive of Minnie, saying at a WSPU meeting in Hyde Park that 'I am proud to be the husband of such a woman… and I glory in her courage.'
Minnie was pleasant and articulate and the WSPU liked her to speak to women of many backgrounds, especially the middle- and upper-class 'ladies', to get them to join the society and donate funds. She kept a scrapbook (as many suffragettes did) containing photographs and newspaper clippings of all the key events, including her own arrests. Minnie became seriously ill in 1911 with cancer and needed an operation. She was no longer able to be involved with the very active campaigns. However, she continued to be a supporter of and advocate for women's rights until her death in 1954.
Glossary
WSPU – Women's Social and Political Union
West Ham Board of Guardians – a charitable group established to oversee funds to the poor in the area and to support their welfare needs, such as the poor house
Questions
What problems might Minnie have faced growing up?
Why do you think she kept a scrapbook?
How typical do you think she was of suffragettes?
Useful resources
Elizabeth Crawford, The Women's Suffrage Movement: a reference guide, 1866–1928 (Routledge, 1999)